On July 4th, 2009 we decided to have a big party as a bit of a three-way celebration. First, it is Eliz' birthday on July 2nd, next, of course, it is our Nation's birthay and third sort of a 'thank God this house is finished' party. We were expecting 55 people, Eliz counted 50, so this ranks as a medium-sized family get together. Mitch and Neil (Lolyn's husband and brother-in-law respectively) decided they wanted to roast a pig for the event. These first few pictures are the preparation and start of the roasting with Jun acting as co-technical lead.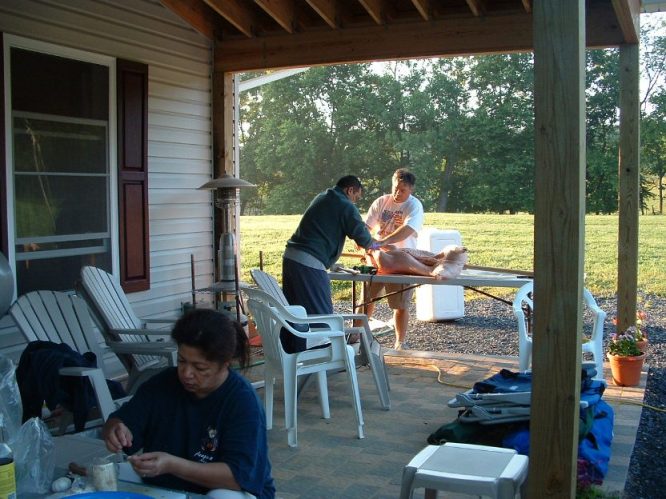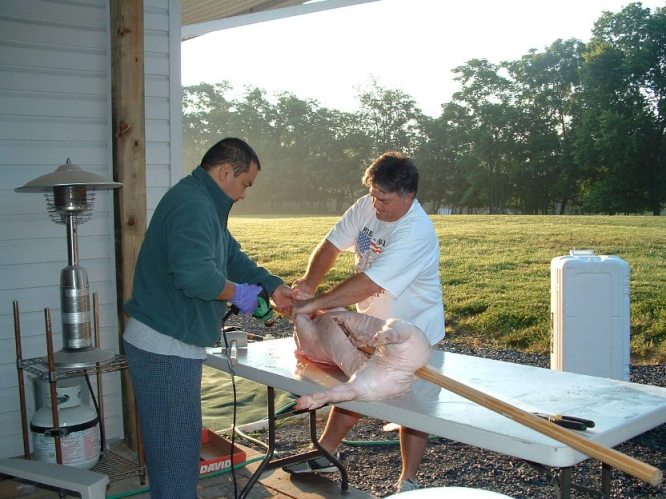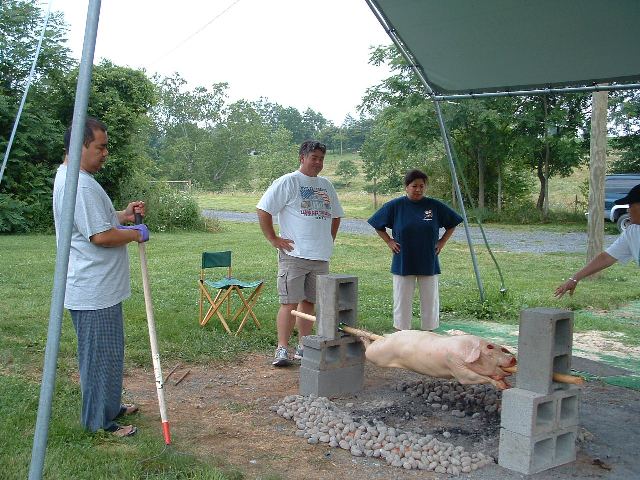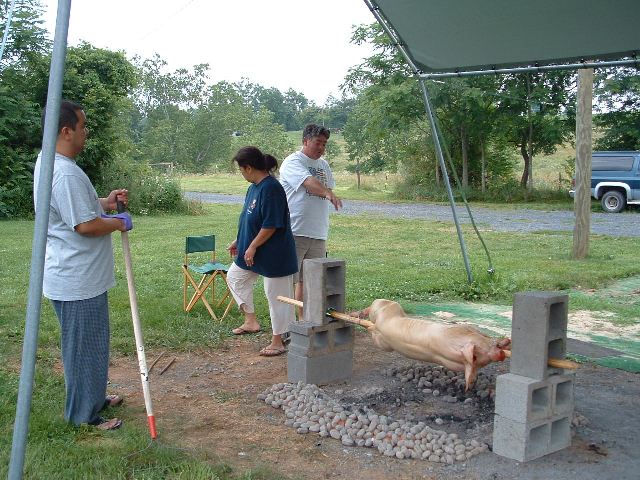 Here is a shot of Tita Marie preparing the very smelly but quite tasty Jeprox dried fish. She was at it for quite a while.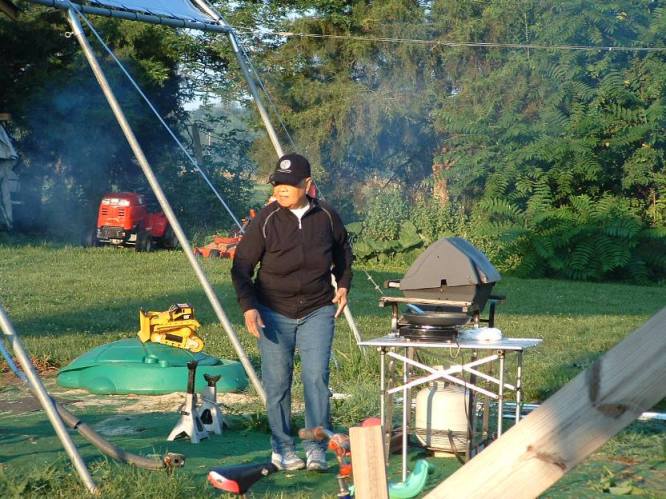 A couple of group photos, but certainly not including everyone.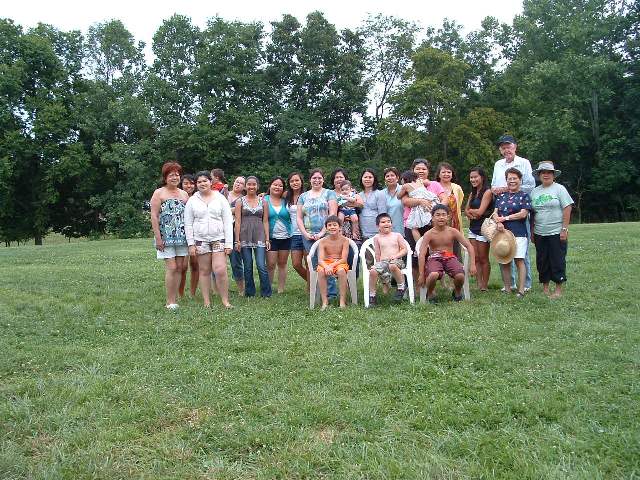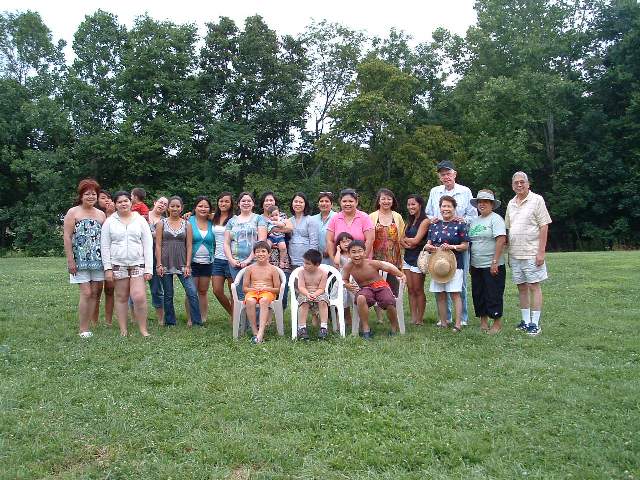 We ordered a new pool table and it was delivered and set up the morning of July 3rd. It seemed to get a pretty good workout over the weekend.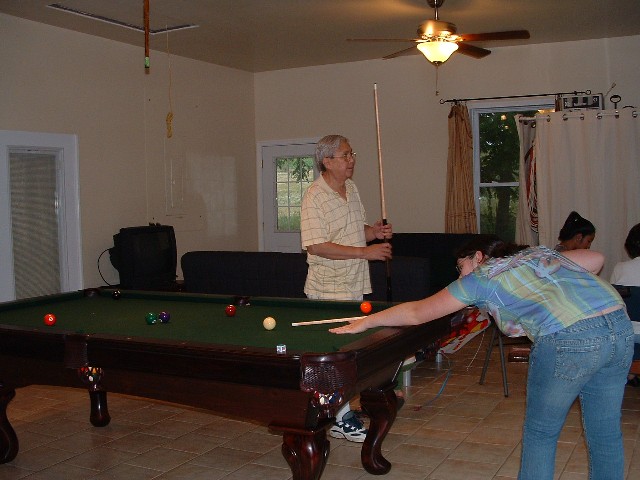 Here we have a picture of the inevitable mahjong table. We were planning to have a big poker game as well, but never got around to it. To the left is Eliz way of concealing the racks of tools, etc.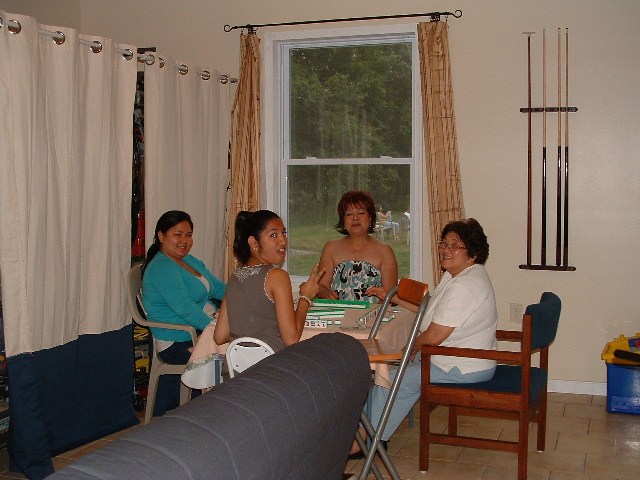 Jun and Neil in some deep discussion.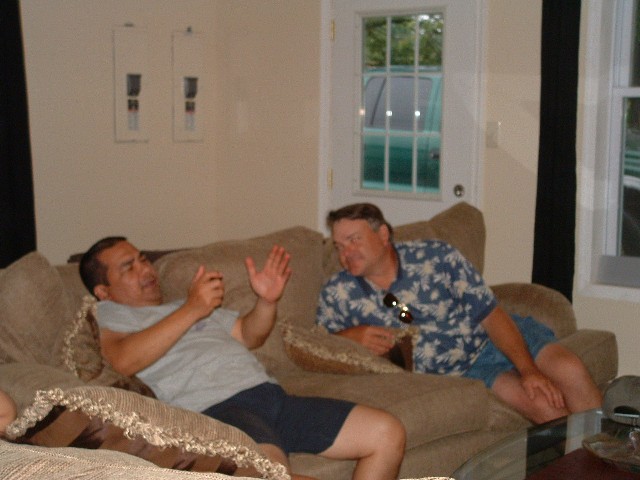 Mitch and his son Taylor prepping the fireworks for the evening. They had quite a collection and there were lots of ooohhss and aaahhhss.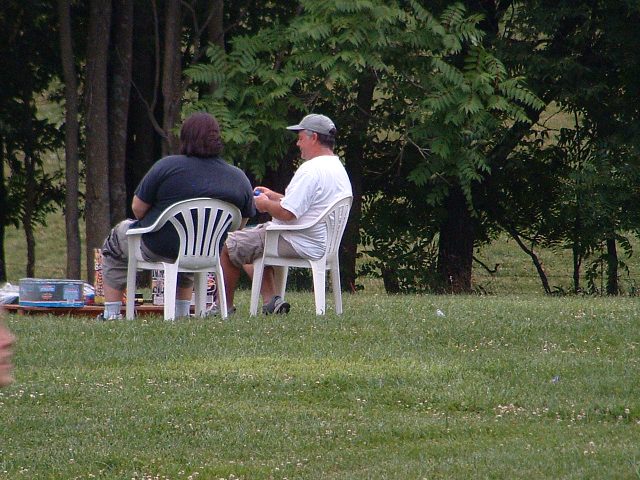 You can see Dondon's playground we put together for him in the last couple of weekends leading up to the party. When we bought it our understanding was it would take 4-6 hours to put it together. After 8 hours we barely had the middle tower put together and just as we were finishing it (after a total of about 13 hours) we found an insert that said it would take skilled workers 14-16 hours to assemble. Not sure we would have bought this particular play set if we knew it would take that long. During the assembly process, and please note that this is after building a 2,600 square foot house with essentially no injuries at all, Eliz got hit on the face with a peice of wood we had set up to see how it looked and then forgot. Not only did she get this great big bump on her face, but it seems that the surprise was so great that she jerked her head so violently that she got a mild consussion! She was told by co-workers at the NIH to have a CAT scan to make sure she wasn't bleeding in the brain and had to have a couple of days off to recover.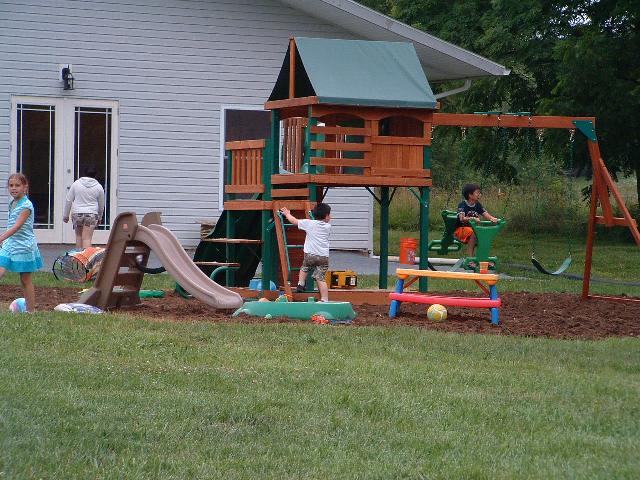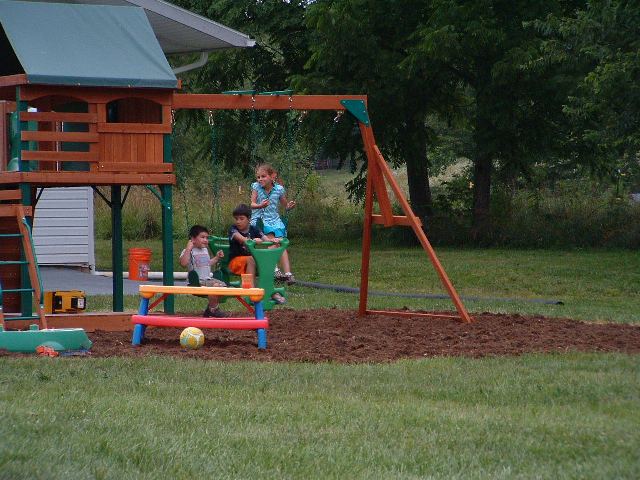 Here is a picture of the bonfire watchers. These also turned out to be great seats for the fireworks.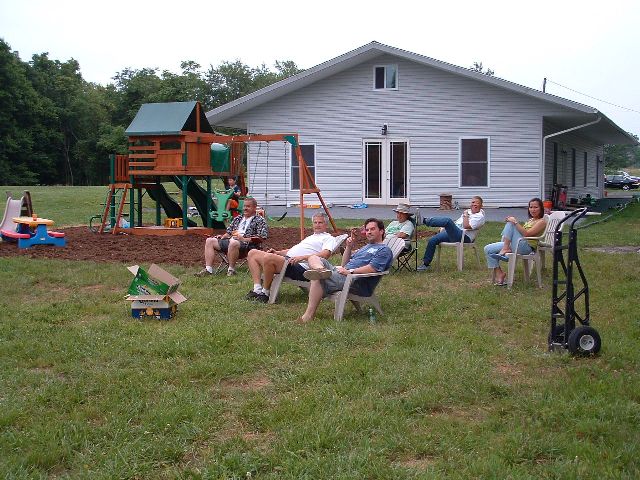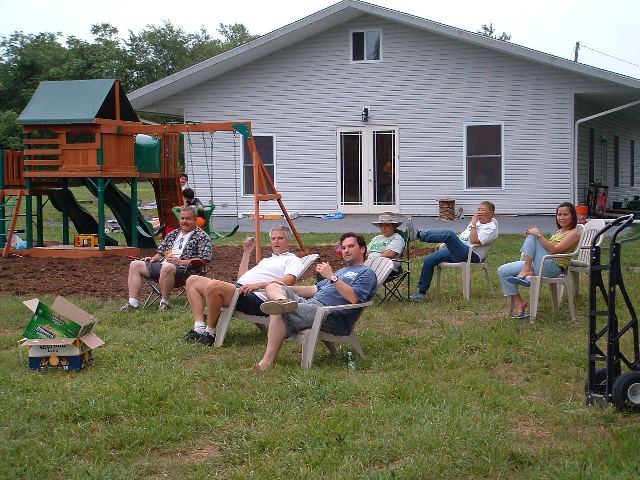 The bonfire itself. We were sitting as close as we could without getting blisters. Those dried pallets really burned fast!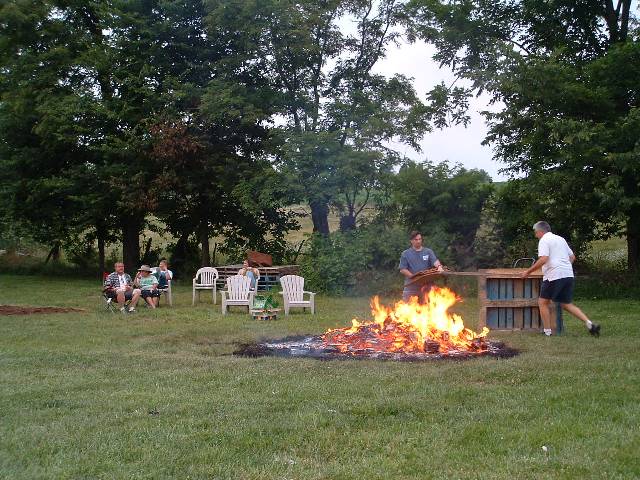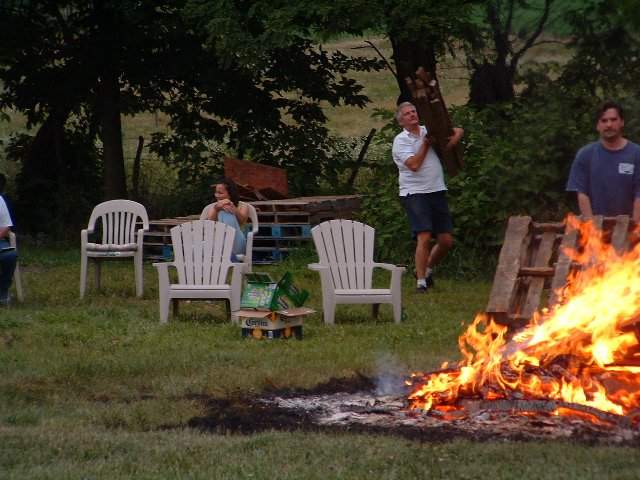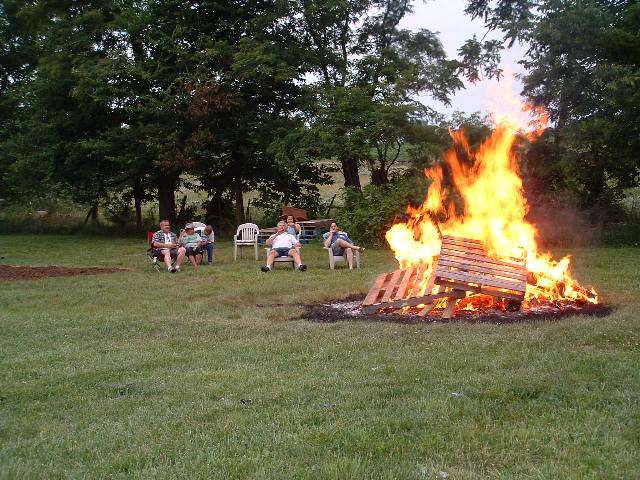 Frank and Kathy (Baby's and Neil's partners, respectively) sat so far away from all the other action because Kathy's dog Bella was terrified of the fireworks.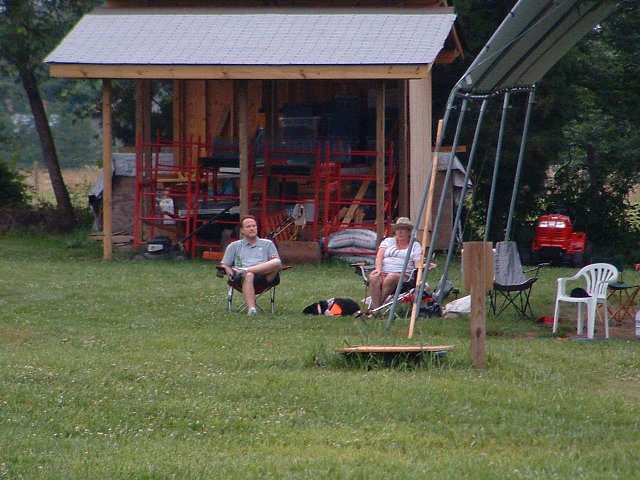 We forgot to take pictures of the front portch during the party, so here are a couple taken after the fact.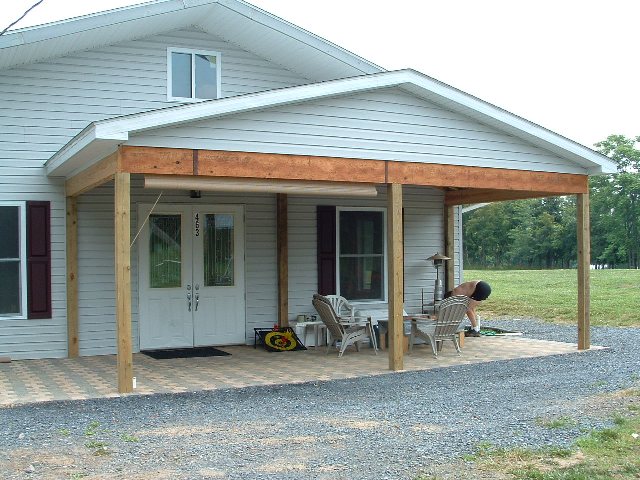 On the left side you can see the hollies we got to cover up the electric meter when you arrive at the house. Our landscapers and new friends Ken and Kathy found them for a very reasonable price just in time for the party.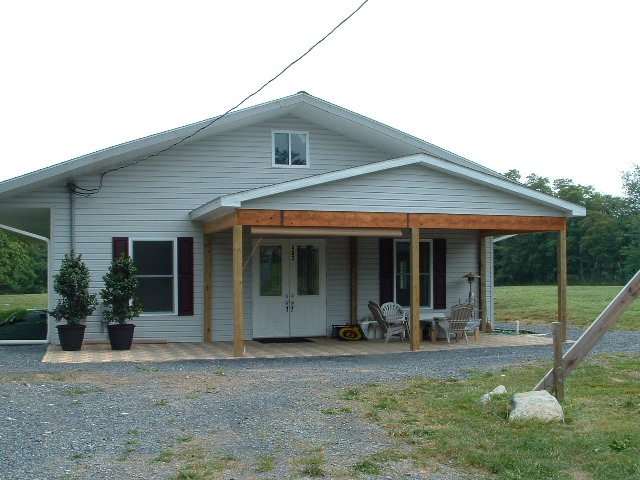 Another view of Dondon's playground after the party. You can see the remnants of the bonfire in the background off to the left. In the forground is the outdoor carpet we put in as a poor man's back porch. It is 12 ft deep by 36 ft wide and for the most part works well. We have the same sort of carpet going the length of the house on either side about 6 ft wide. Sure beats the dirt that was visible before!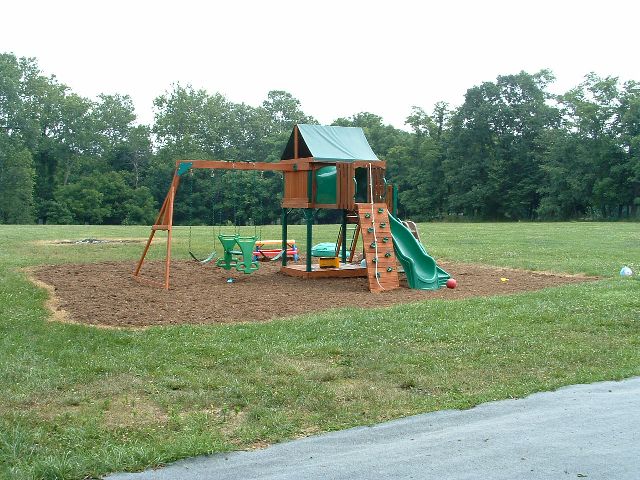 The dining room.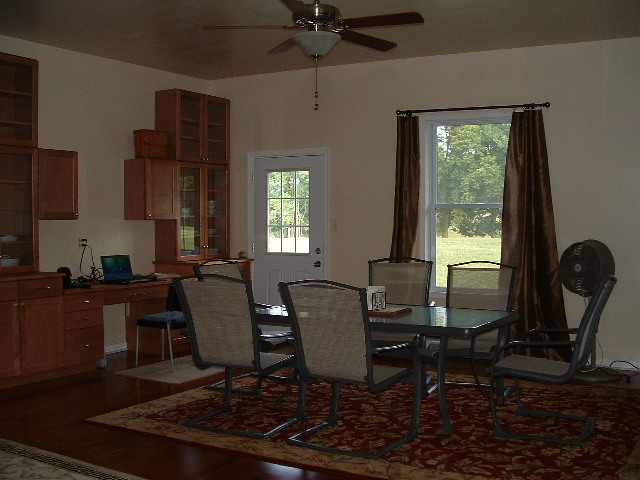 The living room.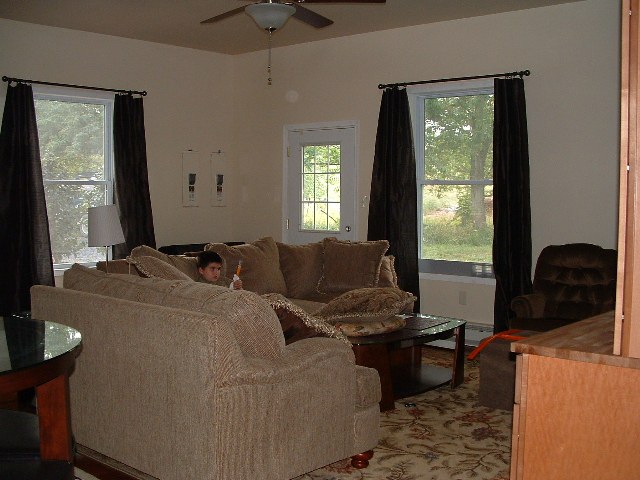 The living room from the other side. Now that we have these nice glass door cabinets, we have to find some stuff to put in so they don't look so empty.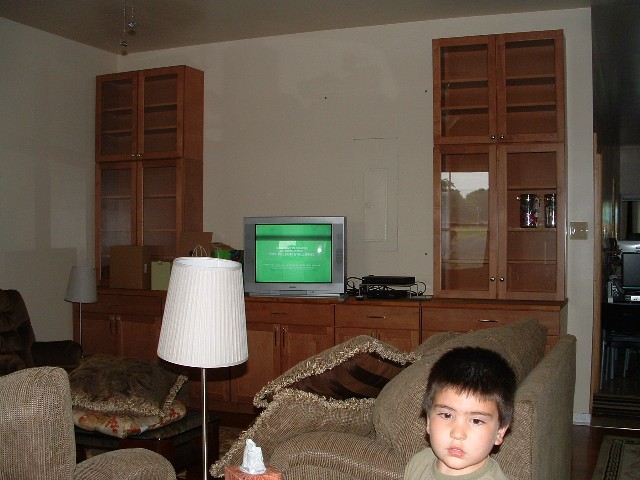 A view from the front of the house looking through the kitchen and out the back.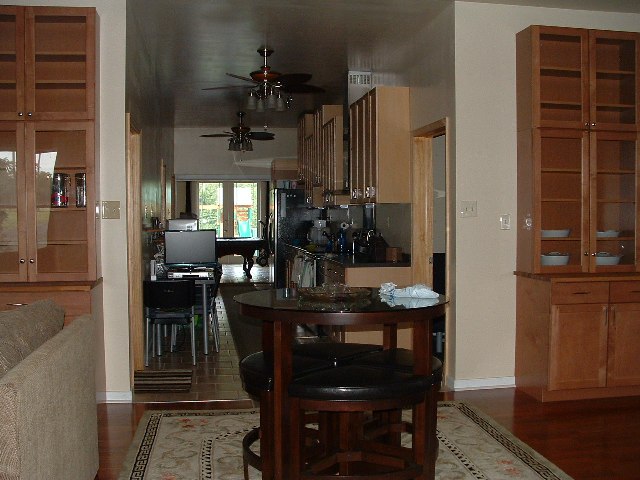 The covered pool table, clearly the focal point of the rec room.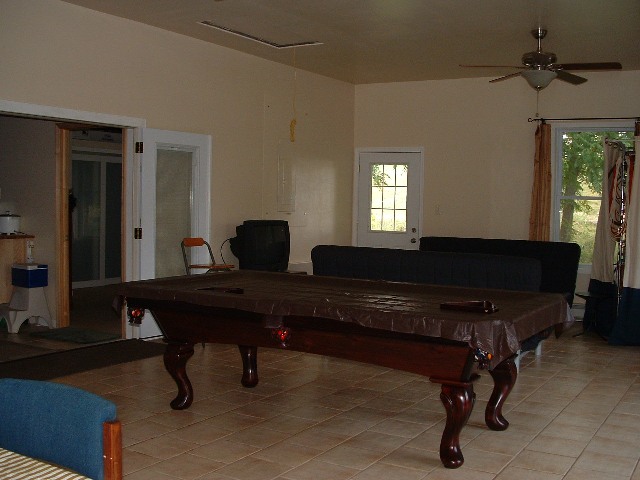 A view of our 'wet bar' in the rec room with Dondon making faces for some reason.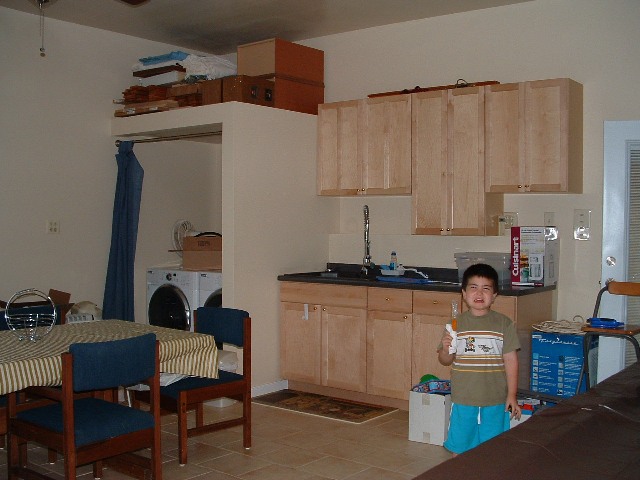 Here is Dondon, the next great pool shark.